Affiliates

Edit

(http://www.trainerschoolz.webs.com) http://www.pokemon.wikia.com | (The Pokémon Wiki)
Welcome to Bulbastuff Wikia

Edit
Bulbastuff is a wiki about pokemon games, cards and everything else.
September 18, 2010
Pokémon Black and White was released in japan.

July 25, 2010 A new legendary Pokemon has been revealed: it's name is Victini, it's a Phantom Pokemon similar to Mew, Celebi, and Jirachi
Recent News
Featured Article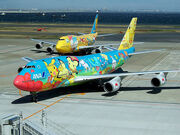 Did you know that in the anime, Ash is voiced by a woman?